Deliver better healthcare with automation.
Let robotic process automation (RPA) manage the repetitive, manual tasks that take healthcare providers away from patients. When automation handles patient data input and appointment scheduling, healthcare teams deliver better patient care and experiences.
Healthcare Automation, Delivered.
In support of UiPath's vision to deliver a fully automated enterprise, one where companies use automation to unlock their greatest potential, qBotica's unique Automation Cube Managed Services offering helps your enterprise automate and leverage the UiPath end-to-end automation platform with its full suite of capabilities.
The goal of this partnership is to enable every organization to rapidly scale digital business operations with easy, full-service implementation with qBotica.
qBotica is a UiPath Diamond Partner and is UiPath Professional Services certified. Our associates are trained and certified in the entire UiPath suite, including Process Mining, Document Understanding, AI Center, Action Center, Orchestrator, and Insights.
UiPath transforms healthcare institutions into automated organizations.
Leaders in healthcare use UiPath automation solutions to improve patient care and experiences, reduce administrative burdens on providers, lower costs, and accelerate claims payments.
Nursing Healthcare
Back to Health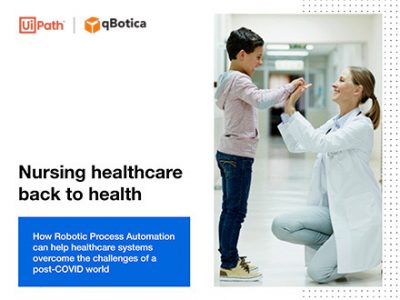 Improving Hospital Efficiency
with UiPath Robots